Current Students
You did it. You took the next step. Now get ready to unlock unlimited possibilities as the adventure of a lifetime begins.
APP prepares you for a successful transfer to Iowa State University. Early advising. Academic opportunities. Social events. Cultural connections. The keys to your adventure. And more.
Choose to begin your adventure at Iowa State while still at your community college in any or all of the following ways: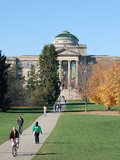 Obtain an Iowa State student identification card and e-mail address. To get your student identification card, visit 0530 Beardshear Hall on the Iowa State campus, Monday through Friday between 8:00 a.m. and 4:00 p.m.
Sign up for an e-mail account in 192 Parks Library, Monday through Friday between 8:00 a.m. and 4:00 p.m.
Work out at our recreational facilities and join a student organization*
Ride CyRide fare-free (CyRide does not provide transportation outside the City of Ames)*
Attend athletic and selected cultural events at discounted student rates. APP participants should contact the appropriate ticket office to purchase event tickets*
Utilize Iowa State's career related programs including career fairs and workshops
Access Parks Library
*These services require you to have an ISUCard and pay the optional student activity fee. Fees are subject to change. To take advantage of this option, contact Tuition & Fee Assessment at 515 294-1889 or visit 0460 Beardshear Hall to have the student activity fee assessed to your university bill. Once assessed, the payment can be sent to the Treasurer's Office, 1220 Beardshear Hall, or paid online through your AccessPlus account.