Central Campus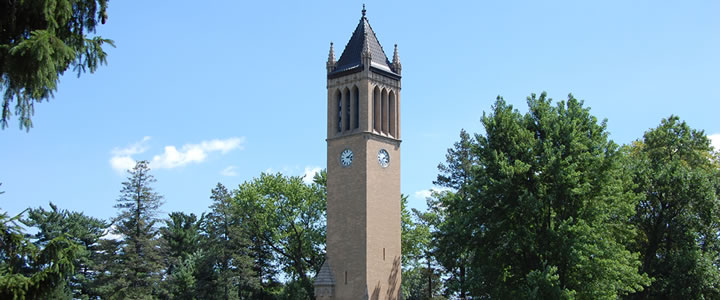 Iowa State's first president Adonijah Welch visualized what he thought the Iowa State campus should look like. He saw an open central campus with a road encircling the buildings of the university. There was to be lots of green grass, trees sprinkled throughout to give shade on hot summer days, and shrubbery and flowers for fragrance.
The 490-acre central campus has been used in various ways since 1858, but Welch's concept has remained unscathed. It's been a parade ground for ROTC, provided fields for intercollegiate sports, and plots for the forestry and horticulture programs. The 20-acre central lawn is the perfect spot for weddings, studying, and lying out in the sun. Many events are held on central campus each year.
Thomas Gaines. 1991 book, The Campus As a Work of Art, proclaimed the Iowa State campus to be one of the 25 most beautiful campuses in the country. Gaines noted that park-like expanse of central campus, and the use of trees and shrubbery draw together Iowa State's varied building architecture.
The American Society of Landscape Architects (ASLA) selected Iowa State's central campus as a "medallion" site in 1999. Iowa State joined Yale University and the University of Virginia as recipients of this honor.